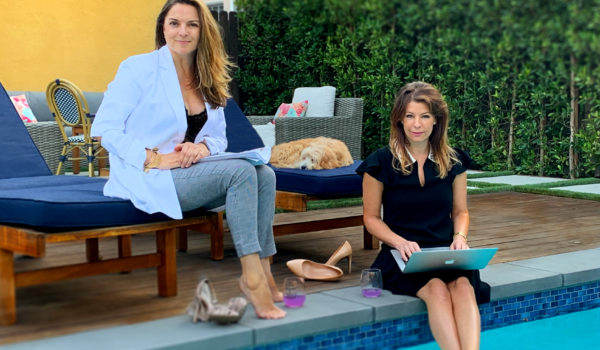 Highland's Dynamic Duo on Selling Louise Linton, Charlotte Kirk Movies and Creating "Good Old-Fashioned" Entertainment
October 4, 2023
---
In 2010, sales agent Arianne Fraser learned that a rival had scooped up foreign rights to sell Paranormal Xperience 3D, a Spanish horror pic about five medical students investigating an abandoned mining town in search of paranormal evidence. It was the perfect title for Fraser to bring to that year's Cannes film market. In an industry where most sales companies are run by men, Fraser soon learned she hadn't been trumped by one of the usual suspects. She was beat out by the French-born Delphine Perrier, who had just launched her own L.A.-based sales firm after departing Paramount Vantage.
Not long after, at a posh dinner thrown by a foreign buyer at a villa in Monaco, Fraser and Perrier were seated together. Within months, they decided to join forces, and are presently getting ready to celebrate the 10th anniversary of the Highland Film Group, a prolific sales, financing and production company famed in particular for its focus on high-octane action, thriller and horror fare. Fraser is CEO, and Perrier, COO. Last month, the duo announced they are launching a new domestic distribution company, The Avenue Entertainment. Run by JJ Caruth, the Avenue's first release will be Dimitri Logothetis' martial arts sci-fi film Jiu Jitsu, starring Nicolas Cage and Frank Grillo. The movie will hit theaters and VOD simultaneously on November 20th.
The films on Highland's AFM slate are replete with top talent, including Wash Me In the River, starring Robert de Niro, John Malkovich and Taylor Kitsch; Mark Neveldine's Panama, starring Cole Hauser and Mel Gibson; and Ambush, starring Aaron Eckhart, Jonathan Rhys Meyers and Connor Paolo.
Elegant and tough as nails, Perrier and Fraser aren't afraid to sell movies that may happen to involve high-profile figures who have sparked numerous headlines, including actress Charlotte Kirk, whose past relationships with two Hollywood studio chiefs led to their ousters. At AFM, Highland will be screening The Reckoning, directed by Neil Marshall and starring Kirk (the two are engaged in real life). Fraser and Highland are also selling Marshall's just-announced new film, The Lair.
Another Highland market offering is Me You Madness, a campy comedy-thriller marking the feature directorial debut of Louise Linton, an actress and the wife of Donald Trump's U.S. Treasury Secretary Steven Mnuchin. STX has acquired U.S. rights to the movie while Highland is handling international.
Recent Highland titles includes Alec Baldwin's Rust; Youth, starring Pierce Brosnan; Jonathan Milott and Cary Murnion's Becky, starring Lulu Wilson, Kevin James and Joel McHale; the Bella Thorne and Jake Manley-starrer Infamous; and Andrew Baird's Zone 414, starring Guy Pearce, Matilda Lutz and Travis Fimmel.
The duo spoke earlier this month with The Hollywood Reporter about conducting business amid the ongoing COVID-19 pandemic and the fateful night they met a decade ago.
What is the advantage of a virtual market?
Perrier There are always distractions at an actual market, and there's always someone knocking at your door.
Fraser We feel very prepared, mostly because we are not dealing with things like travel and making sure your plane is on time and making sure your apartment is ready when you arrive. It's nice spending good, quality time with buyers. At a market, you have 30 minute meetings running on top of each other. We aren't in such a fast-paced environment now, but I do miss the human contact.
You have done a lot of male-action driven pictures. Why has that worked for you?
Fraser It isn't so much male-driven. Entertainment is entertainment. We fell into a niche that has worked really well for us that has allowed us to grow the company. It's fun to sell stuff that people want to watch.
Perrier I never thought being a woman makes a difference. We just fell into a niche. We kept going and it works.
You have several movies going into production. Are you confident that you can pull it off with resurgence in COVID-10 cases?
Fraser This is always the question: 'are we confident we can close the financing?' Yes. Will there be a second wave of COVID-19 and the world collapses again? We don't know the answer. We believe and trust in our producing partners that they've come up with all the proper protocols.
What are your ambitions for The Avenue considering how challenged the theatrical landscape is?
Fraser Our distribution arm is part of a much bigger puzzle. It lets us streamline financing for films, and creates early marketing buzz. I don't think the pandemic will last forever, but one positive is that it gives us a lot of comfort in acquiring films for a home environment. I don't think the theatrical business will ever go away. Everybody likes to see a movie on the big screen. It's going to be about creatively trying to reach your audience wherever your audience is. The trailer release of Jiu Jitsu generated over 3.3 million views. This film represents the opposite of the pandemic, which is hard and depressing. Consumers today are looking for good old-fashioned fun. We as a company have definitely created that kind of content. I think it's presently easier to reach your audience because they are at home.
Do the ongoing headlines about Kirk impact your ability to sell *The Reckoning* to foreign buyers?
Perrier Internationally, people don't care as much about these things.
Fraser We haven't been impacted by the controversy because we've been focused on the material. We were already involved in the movie way before any of these media. Neil Marshall is an incredibly talented director.
Perrier Charlotte delivered a very wonderful performance and I'm very proud of her.
How did you come to connect with Louise Linton and *Me You Madness*, which tells the story about a rich Malibu woman who has a homicidal appetite for the opposite sex.
Fraser Through Cassian Elwes. He sent us a link to the movie, and said he thought it would be best for women to sell to it. It's a great romantic movie for February. (laughter)
Have you met with Linton?
Perrier We had a Zoom call with her. She is very talented and an artist. She was able to write the script, direct and acted in it. It's great entertainment. We are very independent women, and this is an homage to women.
How did you two meet?
Fraser Funny enough, I started Highland and Delphine started her company at around the same time. I was going after a new project, but I lost it to a company called Stonebrook. When I got to Cannes, Stonebrook was right across from me selling this movie I really wanted.
Perrier From my side, everybody was telling me to sell dragon movies. Who the f—k sells dragon movies? People said, 'Arianne Fraser does.' I was coming from Paramount, where no one was selling dragon movies. Who was this Arianne, I thought?
Fraser When we ended up sitting together at dinner in Monaco, we said we should meet back in L.A. Of course we didn't, because who actually follows up? It took us until AFM later that year, where we saw each other again. We met the next week and decided to partner.
Perrier We had a three-hour meal at BOA's Steakhouse.
How has your life changed since COVID-19? Like your counterparts, you previously spent much of your time away from L.A. at various festivals and markets.
Perrier I'm a very positive person and for me, it was a well-needed pause. I get to spend more time with my kids, who are nine and seven, instead of constantly traveling.
Fraser It has been very rewarding. For me, this year has been about rediscovering nature. I went on a camping trip at Mount Whitney — where I had had absolutely no cell service.
Interview edited for length and clarity.