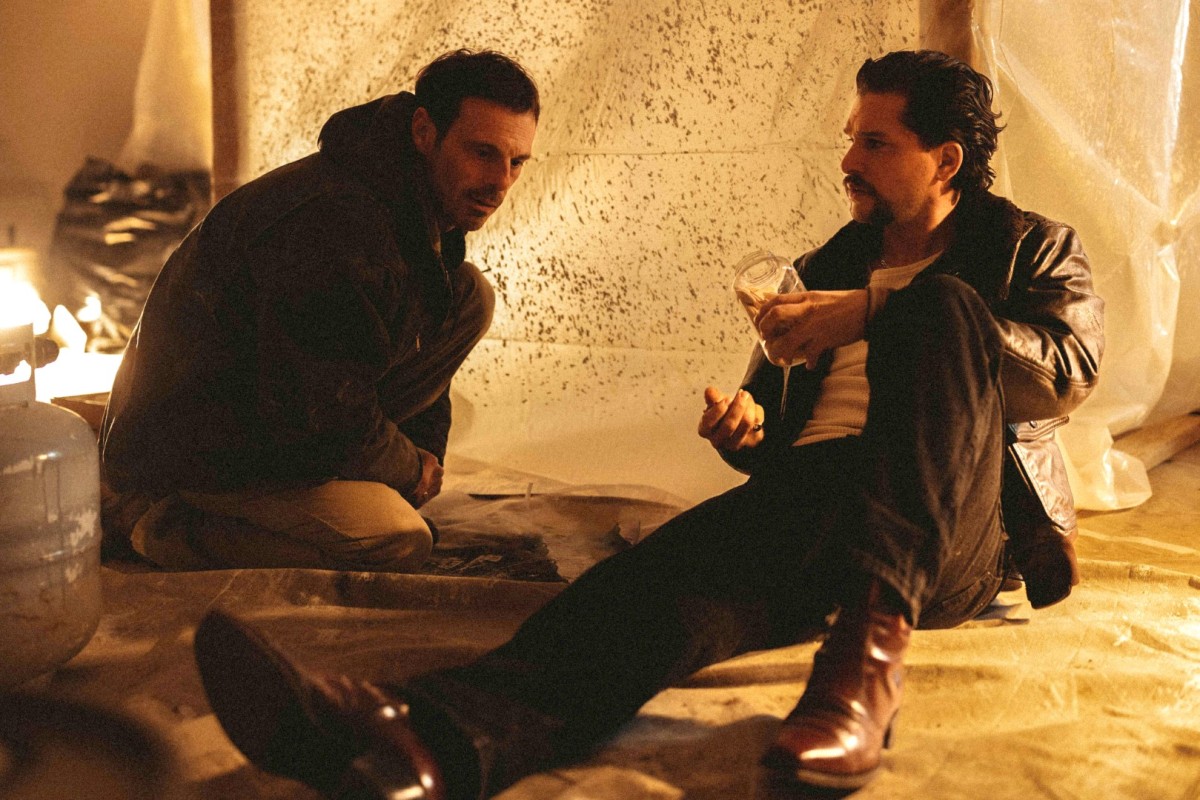 Berlin First Look: Scoot McNairy, Kit Harington in Action-Thriller 'Blood for Dust'
October 4, 2023
---
Highland Film Group is selling the feature from Rod Blackhurst about two friends whose attempt to make a quick buck from drug and gun deliveries erupts in violence.
Scoot McNairy and Kit Harington discuss gun-running, drug-dealing and the last episode of Game of Thrones (OK, maybe not that) in this first-look still from Blood for Dust, the action-thriller from Netflix's Amanda Knox documentary director Rod Blackhurst.
Written by David Ebeltoft (Here Alone) from a story he co-wrote with Blackhurst, the feature is being sold at the European Film Market in Berlin by Highland Film Group.
Now in postproduction, Blood for Dust follows former friends Cliff (McNairy), a traveling salesman struggling to make a living, and Ricky (Harington), an illegal weapons dealer making serious money, who reconnect one fateful day. Hoping to make some quick cash, Cliff agrees to partner with the violent Ricky, who is expanding his business to include cross-state drug and gun deliveries for John, a mid-level American cartel boss (Josh Lucas). Reluctantly he agrees to retrofit his beat-up station wagon to carry dozens of kilos of drugs. When Ricky turns a simple exchange into a bloodbath to eliminate the competition, Cliff realizes his harsh new reality. John's money and drugs soon bring hard retribution to the duo, and every scenario escalates to an explosive conclusion where Cliff must fight just to stay alive.
Noah Lang (This Is Not a War Story, The Climb), Mark Fasano (Sex Appeal, Haunt) and Bernard Kira (The Piper) produce.
Speaking to The Hollywood Reporter last year, Harington said that his character was a "pretty gnarly dude," adding that the role was "not necessarily a part that I would generally get offered, and that's quite interesting to me."
Producers include Ari Novak (Hunted), Nathan Klingher (One Way), Ryan Winterstern (Bandit), Petr Jakl (The Last Full Measure), Bobby Campbell (South of Heaven) and Arun Kumar (Here Alone).
By Alex Ritman, The Hollywood Reporter